Credit Report Errors Are Common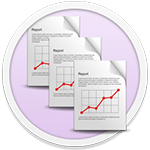 Experts say that up to 80% of all credit reports with the three credit bureaus in the U.S. have some level of error in them. The truth is, inaccurate information with your name, address and employer on your credit report can lead to problems – even denial of credit or loans.
How To Keep Your Credit Healthy
To ensure your credit score is accurate, error-free, and stays that way, get a copy of your 3 in 1 credit report, or sign up for a credit monitoring system.
3 in 1 Credit Report
When was the last time you checked your credit report?
Before you apply for another loan or credit card, get a copy of your credit score.
Check out one of the trusted companies below to get all 3 credit scores and sign up for a free trial.

One late payment can drop your score significantly.

If your identity is stolen and you don't find out right away, it could take years to fix the damage to your credit.

Who is looking at your credit report? Did you give them permission to do so? Too many inquiries can also drop your credit score.

Score:
Price:

Free

(No Credit Card Required)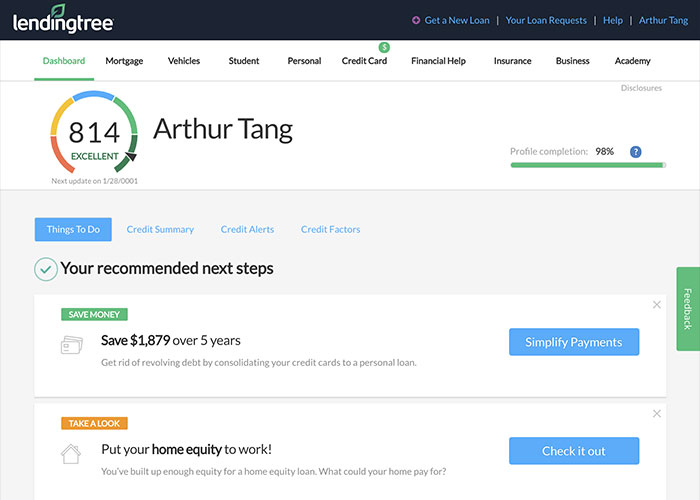 My LendingTree Selling Points
Free updates every month, including ways to help you improve your credit score
Identifies better loans that can save you money
Completely free: no credit card required, does not affect your credit.
---
Download the free app to receive credit score reports and alerts on the go

| | |
| --- | --- |
| Score: | All 3 Scores |
| Price: | 7-Day Free Trial |
| Trial Period: | Daily Triple-Bureau Credit Monitoring |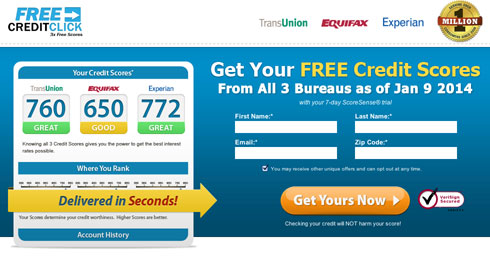 Review: A strong score saves you from excess cost. With Free Credit Click all three of your scores are delivered to you within seconds. It is the shortest form of any credit report offer out there. Sign up today to get unlimited access to your credit scores!
Product Snapshot
Get your Triple-Bureau Credit Report and All 3 Credit Scores
Daily Credit Monitoring & Alerts
Scores Delivered in Seconds!

| | |
| --- | --- |
| Score: | TransUnion Credit Score |
| Price: | $1 for Trial Offer |
| Trial Period: | 7 day trial includes TransUnion Score, Report & Credit Monitoring |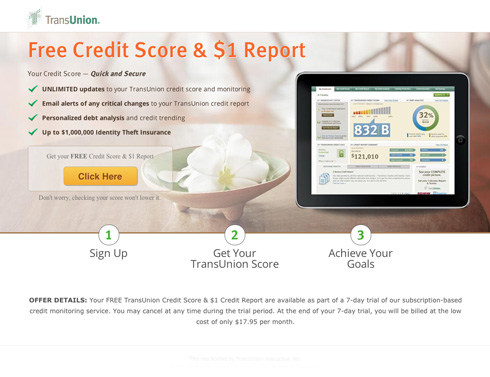 Review: Protecting your identity has never been easier. With 24/7 monitoring, alerts are sent right to your inbox if identity theft is detected. TransUnion uses an easy report card-style credit report to help you better understand your credit status. Checking your credit score has never been easier!
Product Snapshot
Unlimited updates to TransUnion Credit Score & Monitoring
Email alerts you of changes to your TransUnion Credit Report
Up to $1,000,000 in Identity Theft Insurance