Credit Repair Options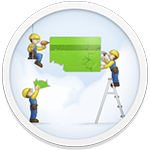 How To Repair Credit
Having active, open credit card accounts that are in good standing is the best way to repair your credit. Not having open accounts means credit bureaus aren't receiving any positive information about you and your credit. Open, well-managed credit card accounts are the quickest way to start repairing your credit now.

On time payments are key. Even one late payment can drop your credit score drastically.

Keep balances within 20 - 30% of your available credit line. The total amount of debt you have doesn't necessarily matter – it's the percentage of your total available credit that does.

Credit repair takes time. It can take as long as 6 months to see an improvement in your credit score.

| | |
| --- | --- |
| Credit Report: | Free Credit Score Summary |
| Price: | $59 / month (Lexington Regular) |
| Spouse Discount: | $50 Off |
| Credit Repair Consultation: | Free |
Review: Lexington Law remains one of the top credit repair companies with over half a million clients in 20 years of business by making the process easy and effective. Some clients have enjoyed a total of 8.7 removals from their 3 credit reports by the third month and up to 28.6 removals after a year of service.
Product Snapshot
3 Levels of Repair Service Available:

Lexington Regular $59.95 / month
Concord Standard $79.95 / month
Concord Premier $99.95 / month

No Obligation - Cancel at Any Time