Enhanced Identity Theft Protection
The biggest mistake you can make about your financial health is that identity theft can't happen to you. Take a look below at the most common ways thieves may steal your identity.
Why You Need To Care
These are real, everyday stories, but you can do something about it. Your number one goal to fight identity theft should be contacting an identity theft protection company. Enhanced identity theft services will protect you from fraudulent activity and protect your credit score. It's a painstaking process to clear your record from credit issues caused by identity theft. It's best to prevent it before it starts.
Identity theft is America's fastest growing crime with more than 9.9 million victims in 2012, costing the victims about $5 billion total.
The need for identity security became increasingly important with the rise of the internet. LifeLock, Identity Guard and TrustedID are all considered the best identity theft protection services -Check them out below.
Protecting your family is crucial because children are one of the most highly targeted age groups due to their clean slate.

Make your payments on time. One late payment can drop your credit score.

Keep balances down to about 20-30% of your available credit line. The amount of debt you have in total won't necessarily matter, but the percentage that it takes of your total available credit will.

Be patient with credit repair. It may take as long as 6 months to see an improvement in your credit score.

| | |
| --- | --- |
| Scores: | Equifax |
| Price: | $17 / month |
| Trial Period: | 7-Day Free Trial |
| Monitoring: | Daily Triple-Bureau Credit Monitoring |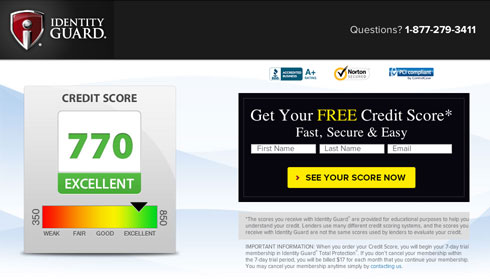 Review: With Identity Guard your credit score is based on data collected by Experian®. The easy to use dashboard keeps you up to date on your identity and credit happenings. If you aren't satisfied with Identity Guard in the first 30 days you will get your money back!
Product Snapshot
Get your Triple-Bureau Credit Report and All 3 Credit Scores
Credit Score Refresh Each Month
Lost Wallet Protection