How Families, Foodies, and Fashionistas Earn More Cash Back: Blue Cash Preferred from American Express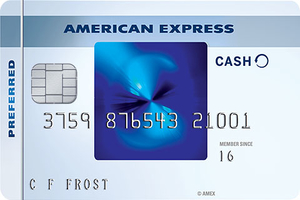 Advertiser Disclosure
If you spend more than $75 per week on groceries and gas, the Blue Cash Preferred® Card from American Express could be the best way for you to maximize your cash back and get more bang for your buck.
This card offers an extraordinary 6% cash back at U.S. supermarkets up to the first $6,000 spent each year and then 1% cash back. If you spend $500 per month on groceries, over the course of a year, you'll earn $360 cash back for food you are already buying. You will also get a sizable 3% cash back at U.S. gas stations and select U.S. department stores, plus 1% cash back on everything else.
These premium rewards come at a cost: a $95 annual fee. Sounds steep, but many families can earn substantial cash-back rewards well beyond that. This card is one of the cases where the benefits can significantly out weigh the annual fee. You can easily do the math to find out if this card is right for you.
For starters, there is a $150 welcome offer after you spend $1,000 in purchases on your new card within the first three months, this offer alone pays for the annual fee for almost two years.
Cash-Back Rewards You Earn*

|   | Weekly spend | Year 1 | Year 2 | Total |
| --- | --- | --- | --- | --- |
| Welcome Offer |   | $150 | $0 | $150 |
| Groceries | $150 | $378 | $378 | $756 |
| Gas | $28 | $43 | $43 | $86 |
| Department Stores | $25 | $39 | $39 | $78 |
| Other Spending | $100 | $52 | $52 | $104 |
| Annual Fee |   | $95 | $95 | $190 |
|   | Total Cash Back: | $567 | $417 | $984 |
*(This chart is for informational purposes only. Your actual cash back levels could be more or less depending on your spending levels.)
6% Cash-Back on Groceries at U.S. supermarkets. First, let's look at the massive 6% cash back reward. If you've got a couple of mouths to feed you could easily spend $150 a week on groceries. That's $7,800 a year. Your total grocery rewards from U.S. supermarkets for the year will be $378 ($360 for the first $6,000 at 6%, plus $18 for the next $1,800 at 1%). It's worth noting, specialty stores and superstores like Target and Wal-Mart don't qualify. If you are shopping organic, Whole Foods does count as a supermarket.
3% Gas Rewards. According to Gasbuddy.com, the average motorist will spend $1,494 on gasoline in 2017. This means with 3% cash back at U.S. gas stations, the average motorist will earn $44.82. 3% cash back  is one of the highest cash back rates you can earn for gas. If you are filling up two cars with gas, your rewards could be even higher than on our chart.  There are restrictions, warehouse clubs like Costco that sell gas aren't considered U.S. gas stations, so pump purchases there will earn 1% cash back rather than the full 3%.
3% Department Store Rewards. The impressive department store rewards are sometimes overlooked on this first-rate gas and groceries card.  The 3% cash back at select national department stores is also one of the highest you can earn with no caps. Over 15 popular stores qualify, including Nordstrom, Macy's, Kohl's and Bloomingdale's. Depending on how much you spend on clothes per year, your cash back rewards could be significantly higher than on the chart shown above.
Turbo Charge Your Cash-Back. There are ways you can strategically use this card to boost cash rewards. Supermarkets typically sell gift cards for a wide range of stores, companies, restaurants and online retailers. Increase your 6% cash back by using your Blue Cash Preferred® Card from American Express at the supermarket to buy these gift cards and then use them yourself. Or, are you buying gift cards for birthday, graduation or wedding gifts?  Buy them at the supermarket to maximize your cash-back rewards.
Say you are looking at a $300 lawn mower at Home Depot. You can go to the supermarket, buy six $50 gift cards for Home Depot with your Blue Cash Preferred® Card from American Express, and use those gift cards for your new mower. If you haven't hit the $6,000 per year cap, once your cash-back rewards hit your statement, it will be like you had gotten the mower for $282 because of the $18 in cash back rewards you earned. Just think, the bigger the price tag, the more you can save.
This Card is Best For
If you are a big spender on groceries, gas and buy clothes at the popular department stores on this list, you can generate significant cash back rewards far beyond the annual fee. The high rewards on this cash-back card propel it to the top of its class.
You won't have to spend time remembering rotating bonus categories to earn your cash back. This is a streamlined card, which offers constant cash-back rewards that can make a practical impact on your budget.
Why this Card?
Consistently high levels of rewards, no rotating categories. You will pay a $95 annual fee, but you will earn premium reward rates that are unmatched in the industry. The $150 welcome offer only sweetens what is already a great deal.
*Editorial Note: This content is not provided or commissioned by the credit card issuer. Any opinions, analyses, reviews or recommendations expressed in this article are those of the author's alone, and may not have been reviewed, approved or otherwise endorsed by the credit card issuer. This site may be compensated through a credit card issuer partnership.
Top Card Categories