*Editorial Note: This content is not provided or commissioned by the credit card issuer. Any opinions, analyses, reviews or recommendations expressed in this article are those of the author's alone, and have not been reviewed, approved or otherwise endorsed by the credit card issuer. This site may be compensated through the credit card issuer Affiliate Program.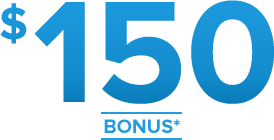 Earning some decent coin from a cash back credit card is usually a long-term play. Use the card for everyday purchases, pay it off, and after a year or so you'll have bankrolled a usable amount of cash back—anywhere from $100 to several hundred, depending on your usage.
Don't get me wrong: Building up a nest egg of cash back every 12 months is great. But what about those of us who don't want to wait a year to reap our rewards?
Introducing the Chase Freedom Card
Good news: The year-long wait for cash-back rewards is over. With the Chase Freedom card, you'll earn $150 after spending $500 on the card within the three months after your account opens.*
You'll Earn 30 Percent off
If you're into percentages saved, you're basically getting 30% off of your first $500 spent on the card. As far as spend thresholds go, $500 is a pretty low bar to clear compared industry standards.
Travel rewards cards often require a minimum spend of $2,000 before you'll get your signup bonus. With the Chase Freedom Card, you'll only need to spend $167 per month to earn your $150 bonus. That's gas, and groceries. Done.
Did We Mention Rewards?
That's right, in addition to your $150, you'll also start earning reward points for every dollar spent.
Chase rotates its 5% cash back categories every three months, meaning some months it'll be groceries, others gas, and others restaurants.
We recommend using it toward either gas, grocery and restaurant purchases, as these will earn you the maximum of 5% cash back (in addition to the one-time $150 reward).
Here's a quick breakdown:
In 3 months, $500 spent within Chase's 5% back category (either gas, groceries or restaurants) = $150 bonus + $25 in regular cash back rewards = $175.
So really, you could easily get $175 instead of $150 just by using the card for everyday purchases.
Understanding Chase Ultimate Rewards
Chase's Ultimate Rewards Program is one of the most versatile rewards programs in the industry.
You can use your rewards toward gift cards, Amazon purchases, and straight-up cash back.
For travelers, there's more good news: You can earn 2% cash back and receive a 20% discount by booking travel through the Ultimate Rewards travel portal.
You also enjoy no blackout dates.
Other Benefits of the Card
You'll earn 1% cash back on all other purchases.
0% Intro APR for 15 Months
Cash Back rewards that never expire as long as your account is open.
Oh, did we mention there's no annual fee?
It's that simple. Apply for the Chase Freedom card today— get the $150 bonus offer and start earning cash back on your everyday purchases!