8 The State of American Finances
Between one-third and two-fifths do not know that a co-signer's credit score can be affected by that loan. A co-signer's score can improve if payments are made on time, or decline due to late payments.
More than one quarter do not understand the basics on how to raise a credit score.
26 million consumers are credit invisible.
19 million consumers have unscored credit records (consumers who don't have enough credit history to generate a score or whose credit information is too old).
Identity Theft and Data Security
In 2014, identity theft topped the list of consumer complaints, totaling 332,646 complaints.
Of the identify theft complaints, 70 percent of fraud complaints were from consumers between the ages of 20-59.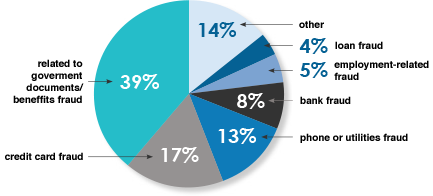 According to data from 2015 Identity Fraud: Protecting Vulnerable Populations Report, 12.7 million people experienced identity theft in 2014. Financial losses due to personal identity theft totaled $16 billion, a decline of $2 billion from the previous year.