15 The State of American Finances
The Challenges
While small business owners have a more positive outlook on the economy than they have in many years, and are anticipating growth and increased staff, small businesses are facing a number of challenges.
Small business owners attribute their most significant challenge to economic uncertainty. Additionally, they are concerned about the cost of health insurance, regulatory burdens and a decline in consumer spending. Small business owners continue to struggle with securing necessary financing to keep their company running, in addition to investing time and money in an effort to prevent cyber attacks.
Business Financing
Data shows there is a clear correlation to a small business owner's ability to hire and his/her ability to get financing.
One-third of small businesses have trouble getting the financing they need for their business.
Nearly one in five small businesses can't meet sales demand because they cannot secure financing.
Is Your Business Able to Obtain Adequate Financing?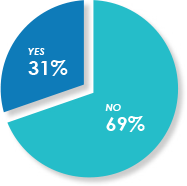 December 2014
Source: National Small Business Administration 2014 Year-End Economic Report