Glossary of Credit Card Terms
Below is a list of credit card and credit industry terms which can assist with reading credit card statements as well as the fine print on credit related documents.
Z Score

The z-score looks at how likely it is that a bank will become bankrupt. It is a formula that puts a value on five financial ratios. It was determined by professor Edward Altman at the New York University in 1968.

Zero Balance

Zero balance means that an individual has no debt on his or her credit card. By leaving a credit card at zero balance there is a possibility of loosing some credit history and could potentially hurt your credit score, but might be negligible if you continue making payments on time and using the credit card smartly.
Back to Top
Articles that may interest you, from our Compare Wallet blog
Advertiser Disclosure
Credit Card Calculators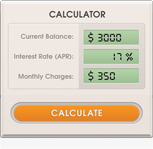 Payoff | Balance Transfer