Glossary of Credit Card Terms
Below is a list of credit card and credit industry terms which can assist with reading credit card statements as well as the fine print on credit related documents.
Yield on Earning Assets

Yield on earning assets is a way to determine the solvency of a financial industry that is used by banking regulators. It is a percentage of average earning assets that comes from interest, dividend or income earned from loans or investments.
Back to Top
Articles that may interest you, from our Compare Wallet blog
Advertiser Disclosure
Credit Card Calculators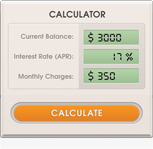 Payoff | Balance Transfer