Glossary of Credit Card Terms
Below is a list of credit card and credit industry terms which can assist with reading credit card statements as well as the fine print on credit related documents.
Wall Street Journal Prime Rate

A common way to determine the prime rate. It is an index that is 3 percent higher than the federal funds rate. The Wall Street Journal takes a survey of thirty of the largest banks and assesses their prime rates. These rates are published in their print edition.
Back to Top
Articles that may interest you, from our Compare Wallet blog
Advertiser Disclosure
Credit Card Calculators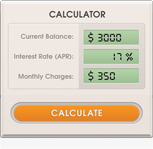 Payoff | Balance Transfer