Glossary of Credit Card Terms
Below is a list of credit card and credit industry terms which can assist with reading credit card statements as well as the fine print on credit related documents.
Secured Credit Cards

A secured credit card is a credit card that targets individuals with no credit history or poor credit history. They usually have high fees attached to them because individuals purchasing them do not have many other options. They also usually also require some sort of deposit before they are issued.

Security Code

A security code are digits that are associated with a credit card to verify the ownership of the card. The security code is usually three or four numbers long and can be on the front or the back of the card. Each credit card company usually has a different name for the security code such as a "card verification code"

Standard APR

A standard APR is something that begins after the introductory period has ended. The APR will come in many forms and each is associated with different actions made by a credit card owner such as a purchase or a balance transfer.

Statement

A statement is a record of every transaction that occurred during a billing cycle. It is prepared by a financial institution and includes anything from a withdrawal of money to interest earned.

Stored-Value Card

A stored-value card is a device that has a computer chip recorded with a certain amount of money. It is about the size of a credit card. If it is re-loadable then it is re-usable and money can be added to it from a teller machine.

Subprime Credit Card

A subprime credit card is a credit card that is geared towards individuals who do not have a prime credit history. They usually have high charges associated with them because the issuer is at a higher risk of an individual defaulting on payments.
Back to Top
Articles that may interest you, from our Compare Wallet blog
Advertiser Disclosure
Credit Card Calculators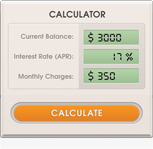 Payoff | Balance Transfer