Glossary of Credit Card Terms
Below is a list of credit card and credit industry terms which can assist with reading credit card statements as well as the fine print on credit related documents.
Reloadable

A reloadable card is a prepaid card that can have money added to it after the purchase date. There is usually a charge for issuing the card and then for adding money too it.

Remote Deposit Capture (RDC)

Depositing a check through a mobile device, like a smartphone or tablet. Pictures taken with the device are used to identify key information on checks, which is then verified by a bank or third party organization.

Returned Payment Fee

A returned payment fee is a fee associated with bill paid by a bounced check. The individual who writes the bounced check will have to pay a fee.

Revolving Balance

Revolving balance is debt that is still owed on a credit card after a billing cycle. The amount changes by cycle depending on how much an individual pays off or how much as added to the debt. Once a debt is paid off though the revolving balance is no longer there.

Reward Card

A reward card is credit card that offers benefits based upon the card's usage.The rewards vary but usually consist of airline tickets, discounts on future purchases, or cash refunds.

Risk-Based Pricing

Risk-based pricing is a form of interest rate that is decided by an individuals credit score and history of repayment. It is different for everyone.
Back to Top
Articles that may interest you, from our Compare Wallet blog
Advertiser Disclosure
Credit Card Calculators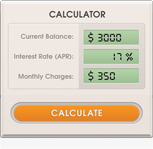 Payoff | Balance Transfer