Glossary of Credit Card Terms
Below is a list of credit card and credit industry terms which can assist with reading credit card statements as well as the fine print on credit related documents.
Late Payment Fee

A late payment fee is a charge that is imposed on an individual for not paying his or her debt on time. It is possible that late payments can negatively affect your credit history.

Libor

Libor is also is short for the London Interbank Offered Rate. It is a daily reference rate that is based on the interest rates that banks use to lend money back and forth in the London wholesale market.

Line of Credit

A line of credit can take many forms: cash, credit, overdraft, term loan, discounting or purchase of commercial bills etc. It is a way for an individual to borrow and access money up to a certain limit and pay the money back and then be able to borrow again. A persons line of credit can be secured or unsecured and the interest rates are usually variable depending on the line.

Loyalty Programs

A loyalty program is a structured effort to encourage credit card customers to use specific cards. They are generally called rewards cards, discount cards, or point cards. For example, an airline company may offer airline miles that counts towards the cheaper purchase of a ticket by using their card.
Back to Top
Articles that may interest you, from our Compare Wallet blog
Advertiser Disclosure
Credit Card Calculators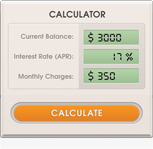 Payoff | Balance Transfer