Glossary of Credit Card Terms
Below is a list of credit card and credit industry terms which can assist with reading credit card statements as well as the fine print on credit related documents.
Keep and Pay

Keep and pay is a tactic that makes it possible for an individual who declares bankruptcy to maintain ownership of certain assets. You are able to avoid going to court, but since the debt is not on court documents, the individual is able to continue paying for the purchased item as agreed originally.
Back to Top
Articles that may interest you, from our Compare Wallet blog
Advertiser Disclosure
Credit Card Calculators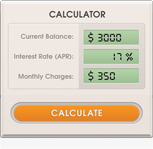 Payoff | Balance Transfer