Glossary of Credit Card Terms
Below is a list of credit card and credit industry terms which can assist with reading credit card statements as well as the fine print on credit related documents.
Joint Account

A joint account is a bank account that is owned by two or more people. Each person involved has withdraw and deposit privileges; also, if something goes wrong with the account such as fraud, defaults or overdrafts all parties will be held accountable.
Back to Top
Articles that may interest you, from our Compare Wallet blog
Advertiser Disclosure
Credit Card Calculators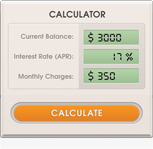 Payoff | Balance Transfer