Glossary of Credit Card Terms
Below is a list of credit card and credit industry terms which can assist with reading credit card statements as well as the fine print on credit related documents.
Fair Credit Billing Act

The purpose of the Fair Credit Billing Act is to protect credit card owners from unfair billing and to give a mechanism of appeal for said errors. Examples of the errors would be: charges of the wrong amount, charges not actually made by the consumer, items not received by the customer, charges for damaged goods on delivery, statement mailed to the wrong address etc. A consumer is able to dispute a particular charge by mailing his or her name to the address on their credit card statement that says "billing inquiries". The dispute must be made within 60 days. The credit issuer should acknowledge the dispute within 30 days, and within 90 days make the correction if needed.

Fair Credit Reporting Act

The Fair Credit Reporting Act, which was a 2003 amendment allows customers the privilege to receive free copies of their credit reports each year from the three major credit bureaus. The Act regulates how credit bureaus correct, maintain, and share information on the credit reports. It sets a base of consumer credit right, and allows consumers the right to have inaccurate information removed from the files.

Fair Isaac

A Fair Isaac is first name FICO was known for. The company provides credit scores along with decision making services and is intended to help financial services companies. The Fair Isaac changed its name to FICO in 2009.

FAKO score

A FAKO score is used to describe a score that is not associated with a FICO credit score. If a consumer purchases his or her score from anywhere but myfico.com the score would be considered a FAKO score instead of a FICO score.

Federal Deposit Insurance Corporation

The FDIC is a federal agency that was created by Congress to assure a consumer that deposits will be made, and that a consumer has protection for his or her money, and that financial institutions are stable. It requires banks to have a certain amount of capital available at all times and insures its depositors that they will be insured up to $250,000.

Federal funds rate

The federal funds rate is an interest rate that banks will lend balances capital, usually overnight, to other depository institutions. The rate of interest is decided between the two banks and is the weighted average through all transactions. It is important to to credit card holders with different credit rates. The federal funds rate is three points higher than the prime rate (the credit rate that is charged by banks to their customers; it is usually the same through major banks) and usually changes in direct correlation to the prime rate.

Federal Trade Commission

The Federal Trade Commission is in promotes fair and free trade for the consumer. It prevents price-fixing agreements, false advertising, illegal combinations of competitors etc.

FICO

FICO was founded in 1956, it is a type of credit score. It is a three digit value that shows the risk of a credit borrower. A consumer's score ranges from 300 to 850; the higher the score, the better. Usually, a person with a low FICO score can expect to have higher interest rates on loans.

Finance Charge

A finance charge is a fee associated with the cost of borrowing. It includes the cost of interest and additional fees. The charge will be a numerical dollar value.

Fixed Rate

A fixed rate or APR is a per unit cost that does not change throughout the year. It is a predetermined rate that is set for a certain amount of time.

Fleet Cards

Fleet cards are usually associated with businesses and are used most commonly for auto expenses such as maintenance and gas.

Floor Limit

A floor limit is a certain amount that MasterCard and Visa has determined for which credit and debit transaction for single transactions must amount to at merchant outlets and branches.

Foreign Transaction Fee

A foreign transaction fee is a charge that many credit card companies, such as Visa and MasterCard, put on cards when purchases are made in countries that do not have a dollar currency or involve a foreign bank. The fee is usually a percentage of the purchase. It is also called a foreign exchange fee or currency conversion fee.

Fraud Alert

A fraud alert helps protect your credit card information. It is an alert on your credit card account or a credit bureau that is placed by the owner or the issuer of the card. If questionable actions are made regarding the account, it is flagged for a security check.

Fraudulent Transaction

A fraudulent transaction is one that is not made by the card holder. These transactions will be listed in different ways depending on the card company.

Fraudulent User

A fraudulent user is someone who uses credit card information from another person without authorization. They will use the information to purchase goods or services unbeknownst to the credit cardholder.
Back to Top
Articles that may interest you, from our Compare Wallet blog
Advertiser Disclosure
Credit Card Calculators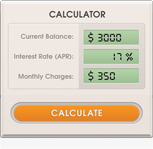 Payoff | Balance Transfer