Glossary of Credit Card Terms
Below is a list of credit card and credit industry terms which can assist with reading credit card statements as well as the fine print on credit related documents.
Electronic Funds Transfer Act

The Electronic Funds Transfer Act is federal legislation that determines what is appropriate and inappropriate for customers who transfer their funds electronically. It was passed in 1978 by US Congress to establish the rights and liabilities of the customers.

Encryption

An encryption is a way to securely transport credit card information across the internet or credit card processing networks. It is a code on the card that keeps it secured.

Equal Credit Opportunity Act

The Equal Credit Opportunity Act is a US law enacted in 1974 that makes it impossible for a creditor to discriminate in lending against any applicant. it allows consumers to lend in all ways including via credit cards.

Expired Card

An expired card is one with an encoded or printed date on it that make it unusable after stated date. The date of expiration varies depending on the policy of the card company.
Back to Top
Articles that may interest you, from our Compare Wallet blog
Advertiser Disclosure
Credit Card Calculators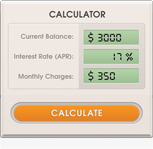 Payoff | Balance Transfer