Which Credit Card is Best for Students?
*Editorial Note: This content is not provided or commissioned by the credit card issuer. Any opinions, analyses, reviews or recommendations expressed in this article are those of the author's alone, and may not have been reviewed, approved or otherwise endorsed by the credit card issuer. This site may be compensated through a credit card issuer partnership.
This article was last updated Jun 21, 2012, but some terms and conditions may have changed or are no longer available. For the most accurate and up to date information please consult the terms and conditions found on the issuer website.
The question of which credit card is best for students is a difficult one to answer. There are numerous student credit card offers – some with excellent terms and credit building tools.? However if you don't look carefully, many student credit cards are designed to take advantage of students, rather than help them.
Before choosing the right credit card, consider the following statistics:
41 percent of student credit card holders age 18 to 29 only make the minimum required payment on the card in the past 12 months.
Only 2 percent of all undergraduates had no credit history.
The average balance for undergraduates is $3173, the highest in all of the years the Sallie Mae survey has been conducted.
College is all about having fun, exploring your independence and creating a future for yourself. The problem is – the wrong credit card could lead to a financial future that's limited. The best way to avoid this is with proper financial education. The second step is finding the best credit cards for students.
So, what should a student look for when searching for the right credit card? The first things they need to look for is low APR and cards that don't have annual fees. Also, some cards provide long grace periods of 23-25 days to pay their credit card bills without paying for interests. These cards also give them points for every dollar they spend at certain retail businesses, which may be extremely beneficial for those students that are more social and seek entertainment during their free time.
The Best Credit Card for Students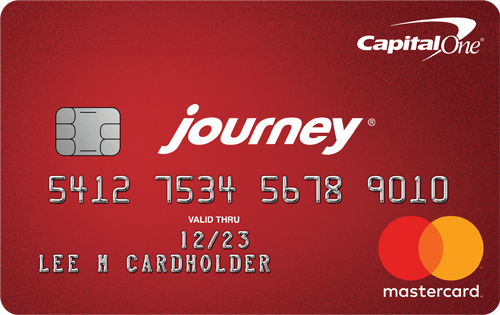 The best option for students with average credit, designed to help them build good credit is the Journey® Student Rewards from Capital One®. This card was especially made for students, and adjusts to their lifestyle effortlessly. The card earns 1% cash back on all purchases, charges NO annual fee and will even send text-message and e-mail notifications to help keep students on track.
There are many card options for students out there that will adjust to their special needs and lifestyles. All they need to do is seek for the right information and the different options that would be suitable for them. The truth is one card may be more beneficial to some and another card might be more appropriate for others.
It is extremely important that they add a credit card to their priority lists; college is fun and exciting as it is, but having credit and owning a card will broaden all the possibilities and even help them out when they least expect it as they learn about how to be responsible and how to be financially reliable.