Tips for Using Credit Card Convenience Checks for October 2017
*Editorial Note: This content is not provided or commissioned by the credit card issuer. Any opinions, analyses, reviews or recommendations expressed in this article are those of the author's alone, and may not have been reviewed, approved or otherwise endorsed by the credit card issuer. This site may be compensated through a credit card issuer partnership.
This article was last updated Oct 08, 2013, but some terms and conditions may have changed or are no longer available. For the most accurate and up to date information please consult the terms and conditions found on the issuer website.
Cardholders are sometimes surprised to find blank checks included with their monthly credit card statements. The card issuers often refer to these as "convenience checks," but they are essentially just another way to get you to take out a cash advance with your credit card.
Being able to write a check from your credit card account does give you some increased flexibility, but be warned – convenience checks can become very costly, very quickly. Before you write a check, it's extremely important to understand the interest rates and fees associated with the cash advance.
The Lure of Convenience Checks
Convenience checks may seem appealing because they offer new ways to make purchases from your credit card account.
If you need some extra cash, all you have to do is make the check out to yourself and deposit it into your bank account. You can also write the check to someone else to pay a bill, a debt or to make a purchase.
With some credit cards, you may even be able to use convenience checks to do a balance transfer since you have the option to make them out to another credit card company.
How Convenience Checks Work – And Why You Should Avoid Them
Writing a convenience check is not the same thing as swiping your credit card for a purchase. As mentioned before, convenience check transactions are basically treated as a cash advance on your credit card.
With steep interest rates, no grace period, and costly fees, taking a cash advance on your credit card is just about the most expensive way to use your plastic.
Cash advance interest rates are typically higher than the normal purchase APR for your credit card, so using a convenience check will cost even more than carrying a balance for your everyday purchases.
Plus, the interest on a cash advance will usually begin accruing immediately after that transaction is completed, so you won't have a "grace period" to pay your balance off and avoid interest charges.
If the promise of high interest rates isn't enough to keep you away, using a convenience check will almost certainly incur a costly transaction fee. These fees usually range between 3%-5% of the amount of the transaction.
The Bottom Line
When it comes to credit card convenience checks, it is extremely important to that you fully understand the fees and interest rates before you use them. Even though they may be convenient, most financial experts agree that convenience checks with your credit card account should be avoided except in special situations.
If your budget is tight, taking out a cash advance or using a convenience check is a dangerous way to try to make ends meet. A better way to use a credit card to tie you over would be to utilize a credit card that comes with 0% intro APR on purchases or balance transfers. Always look for credit cards with the lowest fees and interest rates in order to save the most money!
Better Option than using Credit Card Convenience Checks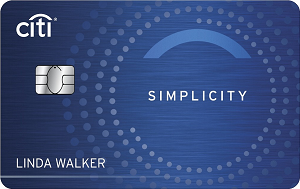 Citi Simplicity® Card - No Late Fees Ever: This credit card comes with one of the longest intro APRs on the market. Cardholders will receive an intro APR of 0%* for 18 months on Purchases* and 0%* for 18 months on Balance Transfers*. That means if you need to make a big purchase or want to pay off another credit card balance you will have well over a year to make payments totally interest free. Another way this card beats using convenience checks is with its lack of fees. With the Citi Simplicity®, there are no annual fees, no late fees and no penalty rate if you happen to miss a payment.