12 Percent of Credit Card Users Had Their Cards Declined Last Year
*Editorial Note: The content of this article is based on the author's opinions and recommendations alone. It has not been previewed, commissioned or otherwise endorsed by any credit card issuer. This site may be compensated through a credit card issuer partnership.
This article was last updated Feb 26, 2018. Terms and conditions may have changed. For the most accurate information, please consult the issuer website.
Having your card declined during an in-store or online transaction can be frustrating and downright humiliating.
In a recent survey, CompareCards.com found that 12% of credit and debit card users had at least one card declined in the last year. Based on the estimated number of Americans who use at least one debit or credit card, that translates to 26 million people who were turned down for a purchase.
The most common reason debit cards were declined was due to insufficient funds. Nearly one-third (32%) of debit card users who had their cards declined said they didn't have enough money in their account to cover the transaction. Among credit cardholders, the most common reason was a maxed out credit card — 39.9% said their cards were declined because the cardholders reached their credit limit.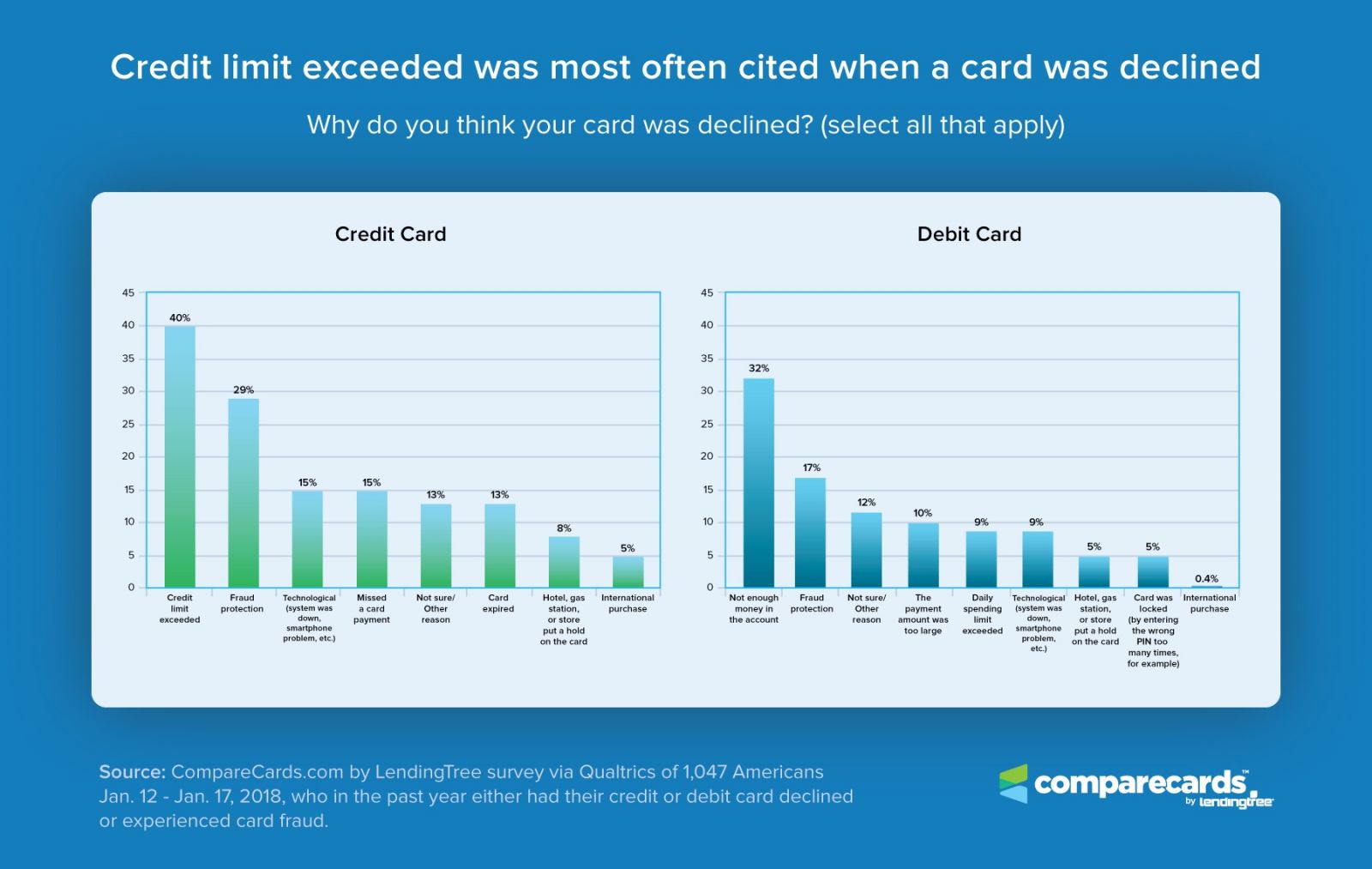 There might be more than your pride on the line when your card is declined. Sometimes, a declined card is more than a minor inconvenience but a sign of something more sinister.
The survey also found that the second-most cited reason among credit cardholders (28.7%) and debit cardholders (16.6%) who were declined is that their bank's "fraud protection" service denied the transaction. Fraud detection is a common card feature that temporarily freezes the account if a bank suspects fraud.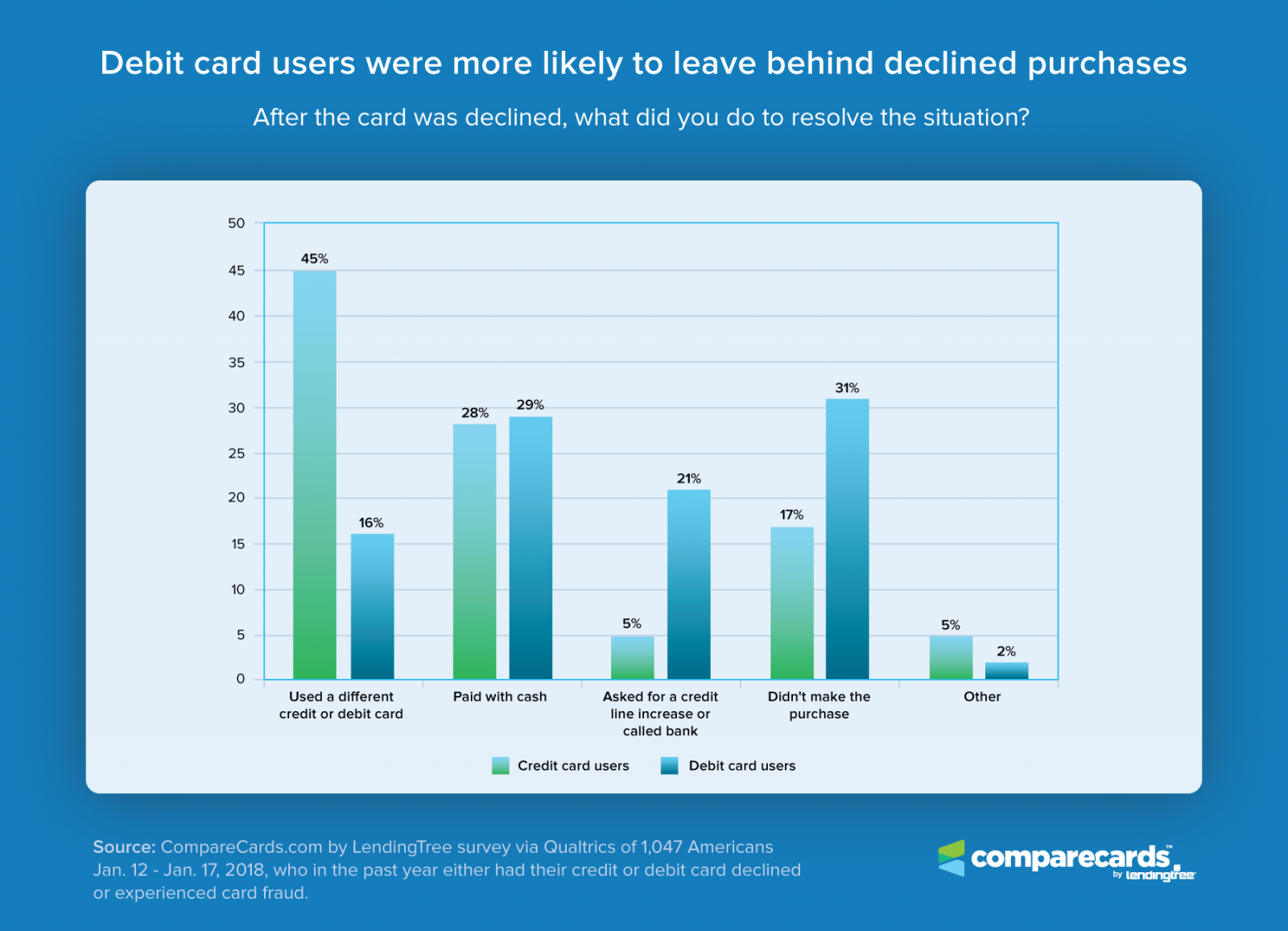 Whether your card is declined due to fraudulent activity or a simple miscalculation, you can save yourself the headache, and perhaps even some money, by taking a few precautions.
Protect yourself from yourself. If your card is declined because of insufficient funds, you're likely not enrolled in an overdraft protection program. This can be a good thing if you don't want to be hit with fees for an overdrawn account. While overdraft protection can be helpful because it lets transactions go through even if you don't have sufficient funds in your account, it doesn't necessarily protect your from incurring overdraft fees.
These fees can be hefty and, if you can, you should avoid them at all costs.
You have options for choosing the overdraft coverage that best suits your needs. Whether you choose to opt in or out, here are a few tips for avoiding overdraft fees.
Keep track of your available balance.

You should know exactly what's coming in and going out of your account at all times. Keep accurate records because what you see on your statement may not always reflect what's in your account. If you have automatic payments, such as rent or utility bills that are debited monthly, make sure you know the amount and the date that they are withdrawn. Be sure deposits are in your account before you count expected funds as part of your available balance so that you don't accidentally spend money you don't have.  

Link your checking account to another account to cover overdrafts.

 

If your checking and savings accounts are linked, your bank can take money from your savings to cover the difference if your checking account is overdrawn. In some cases, the bank may charge a fee for this service, but it will likely be lower than a typical overdraft fee. You also could ask your bank for a linked credit card or a line of credit to cover overdrafts. Again, there might be fees and you might owe interest on the amount you charge or borrow from your credit line, but it's still cheaper than getting socked with overdraft fees.
Protect yourself from thieves. If your card got declined due to some funny business going on with your account, you'll want to know about it as soon as possible. Major credit card issuers Visa and Mastercard typically provide fraud protection on their credit products at no cost to consumers.
These companies monitor your cards for unusual activity and report abnormalities to your issuing bank. If the bank determines that the transactions are suspicious, they may freeze your account and contact you for more information about the purchases. Often, you don't have to do anything to benefit from these services.
But to take charge of all your accounts, you can set up a fraud alert on your entire credit file if you feel your financial information has been compromised (for example, if you've noticed strange account activity) or for peace of mind (say, for instance, your wallet is lost or stolen). You can also set up an initial fraud alert just as a precaution.
Fraud alerts are free and having one on your credit file makes it mandatory for businesses to contact you before issuing any credit in your name.  
Here's how to do it:
Contact one of the three 

credit reporting companies

and ask them to put a fraud alert on your credit report.

When you request a fraud alert from Equifax, TransUnion or Experian, that company will initiate the alert and notify the other two.

Be sure the credit reporting companies have your correct contact information.

The companies will need to contact you if someone requests credit on your behalf.

Update your records

.

The credit reporting company should offer you a free credit report as part of this service. Hang on to it and any letters or documentation related to your credit accounts.

Mark your calendar.

The initial fraud alert stays active for 90 days. After that time expires, the fraud alert must be renewed.
These steps can keep you from being among the 89% of women and 79% of men who admitted to being embarrassed when their card was declined in a store, according to the survey.