How to Earn More Airline Miles with Dining Networks
*Editorial Note: This content is not provided or commissioned by the credit card issuer. Any opinions, analyses, reviews or recommendations expressed in this article are those of the author's alone, and may not have been reviewed, approved or otherwise endorsed by the credit card issuer. This site may be compensated through a credit card issuer partnership.
This article was last updated Jul 29, 2015, but some terms and conditions may have changed or are no longer available. For the most accurate and up to date information please consult the terms and conditions found on the issuer website.
The ironic thing about Frequent Flyer miles is that you don't actually have to fly frequently earn them. In fact, you can earn valuable airline miles towards free flights by simply doing what you're already doing every day! You're probably already aware that you can rack up miles on every purchase with a number of airline credit cards, but did you know that you can earn miles just by dining at some of your favorite restaurants?
How does it work?
Many major airlines are affiliated with "dining networks" that allow you to earn frequent flyer miles when you eat at certain restaurants. The key is to have one (or all) of your credit cards signed up for the program. It's totally free to sign up, and it won't cost your anything down the road either.
What makes these programs especially amazing is that they give consumers an opportunity to "double dip" on earning rewards by using a credit card that earns points or miles. This means that you will earn the standard rewards associated with swiping your card in addition to up to 5 miles per dollar through the dining network program. For example, say you spend $50 on a meal at a restaurant in United MileagePlus® Dining Network and you pay with your United℠ Explorer Card. If you are a VIP Member, you'll earn 250 miles through the dining network as well as 50 miles on your credit card!
To sweeten the deal even more, many dining networks offer sign up bonuses for new members. For example, with American Airlines AAdvantage® Dining, you can currently earn 1,000 miles though their "First Bite" bonus. All you have to do is sign up for the program, link a credit card, and complete your first dine within 30 days. This is how I was able to earn over 1,000 AAdvantage miles by spending just $12 on lunch at one of my favorite local delis!
Where can I earn miles?
Not every restaurant participates in the program, but the list is growing everyday as more and more restaurants hop on board.  The use of dining networks as a means to earn frequent flyer miles can vary a lot depending on where you live; bigger cities will have more restaurants that are a part of the network. You can easily find out which nearby restaurants are eligible by entering your address or zip code on the dining network's website.
If a participating restaurant has a delivery service with a snazzy online portal to order your meal, I would recommend that you submit your order over the phone to ensure you earn the miles. Reason being, many restaurants use a third-party software for their online ordering service which may cause the merchant code to show up differently on your credit card than if you checked out with the cashier.
Sign me up!
Ready to get started? Below are the links to many of the major airline's dining programs. If you prefer to fly on one particular airline, we'd recommend you link your credit card with that airline's program. While you can have multiple credit card offers linked to one dining network account, you cannot have the same credit card registered on multiple dining networks.
American Airlines AAdvantage® Dining
Southwest Airlines Rapid Rewards Dining
Maximize your Double Dip
To really get the most out of your dining experience, use a credit card that earns extra rewards on eating out! Here are a few cards that can make your restaurant visits go even further: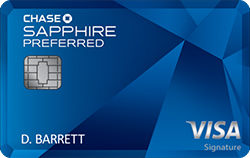 The Chase Sapphire Preferred® Card earns 2X points on travel and dining at restaurants worldwide & 1 point per dollar spent on all other purchases. These points can be transferred to a number of frequent flyer and hotel loyalty programs, so you've got a lot of flexibility in how you can redeem them. This card currently lets customers earn 50,000 bonus points after you spend $4,000 on purchases in the first 3 months from account opening.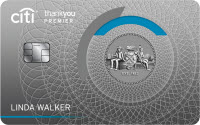 The Citi ThankYou® Premier Card offers Earn 3X Points on Travel, Including Gas Stations, Earn 2X Points on Dining Out & Entertainment, Earn 1X Points on All Other Purchases. Just like the Chase Sapphire Preferred® Card, the points earned on your Citi ThankYou® Premier Card can be redeemed by transferring them to a number of airline frequent flyer programs.
The Final Word
Registering your credit card with a dining program is a completely free and very simple way to earn a few extra airline miles. While this method won't help you rake in hundreds of thousands of miles, it doesn't cost you anything and there is a good chance that many of the restaurants you already eat at are participating in the program. In fact, there have been multiple times that I've gone out to eat while traveling, and then noticed a few days later that I earned another 100 miles because that restaurant happened to be in the dining network!