Attention Bank of America Customers: Your Rewards Are Getting Bigger
*Editorial Note: The content of this article is based on the author's opinions and recommendations alone. It has not been previewed, commissioned or otherwise endorsed by any credit card issuer. This site may be compensated through a credit card issuer partnership.
This article was last updated Oct 21, 2019. Terms and conditions may have changed. For the most accurate information, please consult the issuer website.
When it comes to Bank of America, loyalty pays.
Word has hit the street that Bank of America won't be left behind in the premium credit card reward space. Bank of America is reportedly preparing to launch its Bank of American Premium Rewards credit card in September.
The new rewards card may be especially attractive to current Bank of America checking and savings account customers. Bank of America is turning up the level of rewards that its customers can earn if they have both this credit card along with a checking and savings account at the bank.
"The Bank of America Premium Rewards credit card continues the bank's trend of extending extra benefits to its current customers. That perk generates loyalty to current and new customers and makes them feel special," says Chris Mettler, founder and president of CompareCards.
Bank of America Premium Rewards credit card holders will earn two points for every dollar spent on travel and dining and 1.5 points per dollar on everything else, the Wall Street Journal reported.
Here's where it gets interesting: If Bank of America customers have at least $20,000 in a checking, savings or investment account at the bank they will earn a higher level of points. For customers who are parking over $50,000 at the bank, the points earned will climb even higher.
The new Bank of America card will reportedly come with a $95 annual fee. That's well below the hefty annual fees charged by other premium credit cards. For example, the Citi Prestige® Card charges a $450 annual fee and The Platinum Card® from American Express comes with a $550 price tag.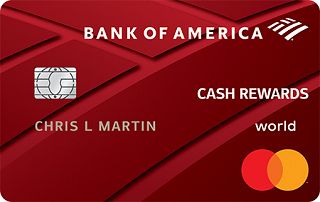 This concept is similar to the loyalty rewards structure seen with the Bank of America® Cash Rewards credit card - $200 Cash Rewards Offer. Cardholders who are Preferred Rewards members can earn 25%-75% more cash back every time they redeem cash back into their Bank of America® checking or savings account using the Bank of America® Cash Rewards credit card - $200 Cash Rewards Offer.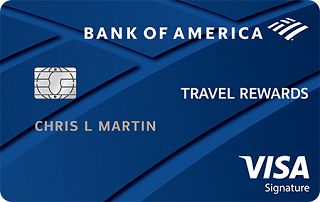 The Bank of America® Travel Rewards Visa® credit card also rewards its banking customers with a higher level of points. Bank of America Preferred Rewards members can earn 25% – 75% more cash back on every purchase.
High Ratings For Retail Bank Satisfaction
If you are considering making a switch, Bank of America ranked a close second in overall satisfaction in the retail banking category (only 5 points behind Capital One), according to the J.D. Power 2017 U.S. Banking App and U.S. Credit Card App Satisfaction Study.
Loyalty programs make customers happy. With Bank of America's credit cards, they can also make you richer.
If you are searching for a new credit card, use this easy-to-use tool to find a card that will deliver you the rewards you deserve.  See Bank of America offers here.