11 The State of American Finances
The American Teenager and College Student
The Facts
In 2012, there were 41,844,000 youth between the ages of 10-19, making up 14 percent of the total population.
68.4 percent of students who graduated high school in 2014 were enrolled in colleges or universities.
Current Financial State
In 2014, 11.4 million jobs (or 8 percent of the U.S. work force) were held by youth, ages 14-21.
This number rises sharply from April to July each year, as teens look for summer employment. In 2014, 51.9 percent of young people aged 16-24 were employed in July, up from 50.7 percent in 2013.
National student loan debt is $1.3 trillion.
2015 graduates with student loan debt have an average of $35,000 in debt.
In 2013, college students had an average credit card balance of $506.
Adolescents by Family Income, 2013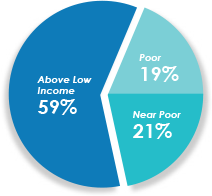 Percentages may not add to 100 due to rounding.
Source: National Center for Children in Poverty, Basic Facts about Low-Income Children: Children 12 through 17 Years, 2013