The Ultimate Guide to Credit Cards
Copyright ©2015 Iron Horse Holdings, LLC
---
On the other hand, if the cardholder chooses to pay the entire statement balance before the due date, then all interest charges are waived for the charges made in June, and the charges made in July are still eligible to be waived if they are paid in full before the due date on the July statement. Remember, understanding credit card interest is a game of strategy, not chance.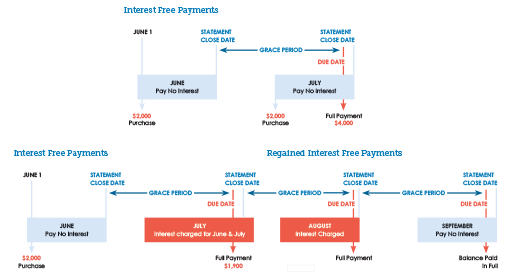 Managing Your Grace Period
Now that you understand how a grace period works, there are a few tricks that you can use to manage your card's grace period to your advantage.
Know your statement closing date.

While a card's payment due date is prominently displayed on each statement, the statement closing date is usually absent. This information is often available online, and can always be learned by contacting the card issuer's customer service. If your goal is to pay off your entire statement balance each month to avoid interest, it will always be better to make a purchase just after the closing date instead of just before. This gives cardholders an additional 30 days in which to make their payments.