The Ultimate Guide to Credit Cards
Copyright ©2015 Iron Horse Holdings, LLC
---
Credit Card Payments and Monthly Statements
When processing is complete, you will receive a charge on your credit card account that you have to pay back. This will likely post to your account right away, but it may not show up on your credit card statement until 3- 7 business days later. This is the "bill" for your credit card, which highlights all of your transactions and payments for the month. Most credit card companies will offer several ways to make payments. You can:

Pay online with a prepaid or bank card

Pay over the phone

Pay through snail mail

Pay at a store or bank

Pay with another card (through a balance transfer)
You will need to make at least the minimum payment for every month that you have a balance on your card. If you fail to make your payments on time or you simply cannot make your payments, you will have to pay several extra fees beyond the minimum payment. Your minimum monthly payment will vary based on your specific credit card, but it is usually 1-2% of the balance or $15 (whichever is higher).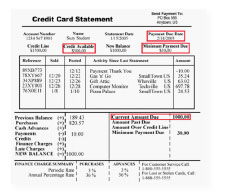 Congratulations!
You have passed the Credit Card Crash Course 101. Now it's time to figure out what type of cards you need to compare. In the next chapter we will outline the most common types of people and which cards are best for each group.