9 Traveling to Cuba: An American Perspective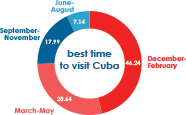 acceptance of credit cards were between the ages of 25-54.
Respondents with or without plans to visit Cuba both stated that limited acceptance of credit cards was the biggest inconvenience about traveling.
Those visiting family/friends don't care about cell/ Internet access.
Those who want to relax on vacation are most concerned with Internet/cell access.
Political Relations
In general, respondents feel that the normalization of relations between the United States and Cuba is a positive thing.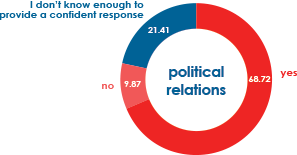 Not surprisingly, people who have a negative view of the Unites State's decision to normalize relations with Cuba are extremely unlikely to visit Cuba. Only 4 percent of those who have a negative view of the change said they planned on visiting Cuba within the next three years, while 29 percent of those who view the change positively have plans to visit Cuba in the next three years.
Respondents who indicated that their reason for traveling to Cuba would be for business, also declared that the normalization of relations between the U.S. and Cuba was either a positive move ("yes") or neutral ("I don't know enough"). No one said "no."