11 Traveling to Cuba: An American Perspective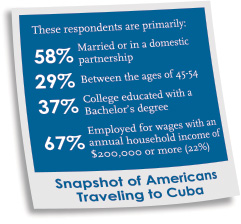 The Survey
Who is Traveling to Cuba?
22.1 percent of respondents plan to travel to Cuba in the next 1-3 years.
Interesting Stats About Americans Planning to Travel to Cuba
People over the age of 65 are 31 percent more likely to visit Cuba within the next three years compared to any other age group in the survey.
More than 75 percent of those who said they had no concerns about visiting Cuba said their preferred method of payment would be credit or debit cards.
30 percent said having no cell phone reception and limited Internet access would deter them from visiting.
The primary travel focus would be history/culture (51 percent).
Those with a bachelor's degree or higher are 14 percent more likely to fall under one of the 12 approved categories of travel.
Of those respondents who said business was their primary reason to visit Cuba and also selected travel cost a concern, none of them said they had a negative view of the normalization of relations between the United States and Cuba.
Of those planning to travel to Cuba in the next three years, respondents felt that the primary inconvenience would be limited acceptance of credit cards.
76 percent of those who indicated they would explore Cuba on their own instead of taking a guided tour, said cell phone service or Internet access would not be a concern.