Racking Up Credit Rewards
V. How to Get the Most Out of a Rewards Card
Which One is Right for Me? And How do I Pick?
There are hundreds of credit cards on the market and every one of them has something different to offer. Should you go with the cash back credit card or the points rewards card? What kind of interest rate are you comfortable with? These are all valid questions for someone in need of a new piece of plastic. To get started, let's first consider the following:
Know What You're Working With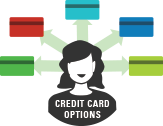 First and foremost, you have to take a careful look at your own credit worthiness. That is what card issuers will do before they approve you for one of their credit cards. Try using a free credit monitoring service to check your credit score for free. If your credit score is strong, you will have a lot more options to choose from.
Determine What Type of Credit Card You Need
If you are eligible for a rewards credit card, decide how you intend to use the card. If you are interested in travel rewards, for instance, then a card that offers free gasoline rebates would be a good choice for you, butonly if you plan to travel by car. Otherwise, you may be better served by an airline miles card or even a hotel rewards card. Think about how you'll use your card and the rewards associated with it. Then find the one that is right for you
Once you have a fairly good idea of the type of card and features you are looking for, it is important to compare credit cards to make sure you are choosing the card that best fits your needs. Our credit card comparison tool allows you to compare cards side-by-side to pick the best card for you. However, there are two important considerations to keep in mind while comparing credit cards:
Sign-Up Bonuses: A sign-up bonus is a special offer used by credit card issuers as an incentive to get customers to sign up for their card. These sign-up bonuses are points or miles awarded after the first purchase, or awarded after a certain amount is spent within the designated amount of time after signing up.
It is important to familiarize yourself with the criteria that needs to be met in order to obtain the sign-up bonus being offered and be ready to pay off the new credit card balance quickly so you don't get stuck paying high interest charges and/or fall into debt.
Annual Fees: An annual fee is a yearly fee charged by a credit card company each year for use of a credit card. If your card charges an annual fee, make sure that the rewards you earn exceed the amount you are charged yearly for using the card.