College Finance 101: How to make it to graduation without student debt
---
Sophomore High School Students
High school graduation may seem like it is light years away, but that big day will be here before you know it. It is crucial to start taking steps now to prepare for college, such as researching potential schools and determining the costs associated with each one.
Picking a college is a massive decision. It will have an impact on the rest of your life. Today, 70 percent of college students graduate with student loans, which total over 1.1 trillion in the U.S. So it's more important than ever for you to plan ahead.
---

College Prep 101
Sean Moore, Certified Financial Planner at Smart College Funding, recommends that sophomore high school students take the following steps to prepare for college.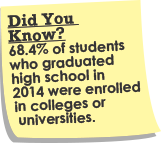 Know your Options. Research potential colleges and universities, and understand the different programs that each offers.
Determine the Total Cost of Obtaining a College Education. %he actual cost of a college or university can vary as much as 46% from the advertised cost of tuition when you factor in scholarships, grants, school aid, etc. Additionally, tuition is only part of the equation. At nearly all public universities, tuition only accounts for between 1/3 and 1/2 of the total cost of attendance. The difference is the cost of room and board, books, transportation and incidentals.
Tip Speak with representatives from the university's financial aid office who will be able to provide a more detailed and accurate estimation of the cost of attendance.