Visa Signature Card Benefits
*Editorial Note: This content is not provided or commissioned by the credit card issuer. Any opinions, analyses, reviews or recommendations expressed in this article are those of the author's alone, and may not have been reviewed, approved or otherwise endorsed by the credit card issuer. This site may be compensated through a credit card issuer partnership.
This article was last updated Jan 21, 2014, but some terms and conditions may have changed or are no longer available. For the most accurate and up to date information please consult the terms and conditions found on the issuer website.
You may have noticed that many credit cards carry the name "Visa Signature" in the title, but have you ever wondered what exactly that means? Sure, Visa is one of the major payment networks, the others being MasterCard, American Express, and Discover, but what does the "Signature" part do for you?
Visa Signature is a package of benefits offered by the Visa payment network to the holders of premium credit cards. These features are above and beyond the set standards of benefits offered to all other Visa cardholders.
Let's take a look at some of the popular benefits of Visa Signature credit cards and see if they can save you money.
1. Roadside Dispatch
Benefit Summary: Visa Signature cardholders can call 1-800-847-2869 and be connected to an exclusive roadside dispatch service. The dispatch will connect you to a reliable service provider that can assist you with towing, tire changing, jump starting, lockout service, fuel delivery and winching. Cardholders pay a flat $59.95 fee for the service call, though there may be addition charges based on the service provided. Services include:
Towing — Up to 5 miles included. You can pay to have the car towed farther.
Tire Changing — You must have a good, inflated spare tire
Lockout Service — Doesn't include key replacement
Fuel Delivery — Up to 5 gallons (you pay the cost of the fuel, too)
Winching — Your car must be within 100 feet of paved or county maintained road
Jump Starting
Our Thoughts: Having the Visa Signature Roadside Dispatch service at your disposal can provide peace of mind whenever you're on the road. However, the service is not cheap – most people would agree that paying $60 to get your car jumped a bit expensive. When you consider the limitations and extra costs like the short towing distance and paying for the cost of the fuel, the Roadside Assistance benefit pales in comparison to more inclusive programs like the AAA Auto Club.
Nonetheless, you don't pay a penny unless you use the service, so it's nice to have in case you ever get stuck in a bind on the road. While having this perk is free, using it can be expensive. I wouldn't depend on the Visa Signature Roadside Dispatch to a cost effective way to get a helping hand on the highway.
2. Lost Luggage Reimbursement
Benefit Summary: If you lose your luggage while traveling, Visa has you covered for up to $3,000, or $2,000 per bag. It's important to note that this benefit only applies if you've paid for your travel reservation with your Visa Signature credit card. Also, this serves as a secondary policy which means that you receive compensations for the difference of the value of your items and reimbursements that are not covered by the airline or other insurance policies.
Our Thoughts: It's always important to read the fine print with any insurance policy. The Visa Signature Lost Luggage Reimbursement is a nice added benefit on your credit card, but it may not cover everything lost in all situations. It's best to keep your most valuable items with you as much as possible while traveling, but the Visa Signature Lost Luggage Reimbursement can give you some peace of mind if your bags do go missing.
3. Travel and Emergency Assistance Services
Benefit Summary: Visa Signature credit card holders can call 1-800-992-6029 to receive a myriad of benefits and services to assist with your travels. The services include Pre-Trip Assistance, Medical Referral Assistance, Emergency Transportation Assistance, Emergency Message Service, Prescription Assistance and Valuable Document Delivery Arrangements, Legal Referral Assistance, Emergency Ticket Replacement, Lost Luggage Locator Service, and Emergency Translation Service. Consult your Visa Signature benefits guide or call your credit card issuer for a more detailed description on what these benefits encompass.
Our Thoughts: There are some interesting perks wrapped up in the Visa Signature Travel and Emergency Assistance Services perk. Overall these benefits seem a bit random and most cardholders will probably never utilize any of these services. It's important to note that the services provided with this perk are A quick Google search could probably get you the solution you're looking for, but in certain situations perks like Emergency Translation Service or Medical Referral Assistance could really come in handy.
4. Auto Rental Collison Damage Waiver
Benefit Summary: Get covered for damage cause by collision or theft on your rental car by putting your rental transaction on your Visa Signature Card. You must also decline the rental company's collision damage waiver if it's offered and specialty rentals like trucks and luxury cars may not be covered. Like most auto rental insure policies on credit cards, you receive "secondary coverage" which means you must first utilize any other insurance you have to cover the damage, but you'll be reimbursed if there are any leftover costs.
Our Thoughts: This is definitely one if the more useful Visa Signature perks as it can save you money every time you rent a car since you won't have to pay for coverage from the rental company. If you are a frequent traveler, this benefit can really come in handy and is a solid reason to carry a Visa Signature credit card. But if you want even more auto rental coverage through your credit card, consider using the Chase Sapphire Preferred® Card. This is one of the only credit cards that offers primary auto rental insurance which allows you to forego using your personal insurance coverage.
5. Year-end Summary
Benefit Summary: This Visa Signature perk is pretty self-explanatory and it's not too much to get excited about. With any Visa Signature card you get a comprehensive summary of your statements throughout the past calendar year. The summary breaks down your purchases and provides some analysis into your spending habits to help you budget and manage your credit card balance.
Our Thoughts: Year-end summaries are offered by most major credit card issuers nowadays, so this Visa Signature perk doesn't stand out too much. But it's a good thing to be aware that you have because they can come in handy for analyzing your budget or preparing your taxes.
6. Warranty Manager Service
Benefit Summary: The Visa Signature Warranty Manager Service offers a complimentary extension to the warranties of certain product you purchase with your Visa Signature credit card. This benefit is available for products from U.S. manufacturers with warranties of 3 years or less. If the manufacturer warranty is less than one year, the term will be doubled. If the is 1-3 years, the term will be extended an extra year. In order for products to be covered, you must register your purchase online or by phone. You can find the full terms for this service here.
Our Thoughts: If you're the kind of consumer that keeps track of warranties and files a claim when applicable, then this is a nice benefit to have. It's a bit of a hassle that you have to register your purchases in order to receive the extended warranty coverage, and the extension only goes a maximum of one year past the original warranty. However, the coverage is as much as $10,000 per item, so it's a worthwhile perk to have for expensive purchases.
7. Visa Signature Entertainment, Food + Wine, Shopping, Sports, & Travel Concierge
Benefit Summary: The Visa Signature website offers cardholders a variety of discounts and special offers for shopping, travel, sporting events, and entertainment. Perks include access to over 900 Visa Signature luxury hotels worldwide with a best available rate guarantee, complimentary in-room Wi-Fi, and many other benefits. You can also gain access to an exclusive reserve of preferred seats for sporting events, concerts, shows and more.
Our Thoughts: The Visa Signature discounts and deals for entertainment, dining, travel, and shopping provide a nice added value for cardholders. If you like to comparison shop online, the Visa Signature online portal is a good place to start when searching for great deals on travel, entertainment and merchandise.
Best Visa Signature Credit Cards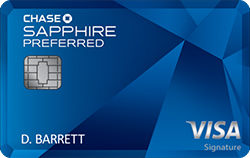 Chase Sapphire Preferred® Card: For consumers more interest in travel than cash rewards, the Chase Sapphire Preferred® Card is a great Visa Signature card to help you earn free travel. To start, cardholders Earn 50,000 bonus points after you spend $4,000 on purchases in the first 3 months from account opening. That's worth at least $625 in travel! There are no foreign transaction fees with this card and an annual fee of $0 intro for the first year, then $95.
For ongoing rewards, you earn 2X points on travel and dining at restaurants worldwide & 1 point per dollar spent on all other purchases. You can also get an extra 5,000 bonus points when you add an authorized user and they make a purchase in the first 3 months. To top it off, the Chase Sapphire Preferred® Card has no blackout dates or travel restrictions and you can transfer your points 1 for 1 to many airline frequent flyer programs and hotel loyalty programs.
The Bottom Line
Visa Signature credit cards offer a number of perks and benefits that aren't provided directly from the credit card issuer. While some of the features in the Visa Signature package are nothing to get excited about, there are certainly some perks that are worth being aware of.
Benefits like Auto Rental Collision Damage Waiver and the Warranty Manager Service have real potential to save you money if you put them to use. Also, perks like Lost Luggage Reimbursement and Roadside Dispatch can give you peace of mind when travelling.
While many cardholders may never utilize any of their Visa Signature benefits, it's always good to be aware that these perks are available should you need to use them!