Discover Launches Free Identity Theft Alerts for Its Cardholders
*Editorial Note: This content is not provided or commissioned by the credit card issuer. Any opinions, analyses, reviews or recommendations expressed in this article are those of the author's alone, and may not have been reviewed, approved or otherwise endorsed by the credit card issuer. This site may be compensated through a credit card issuer partnership.
This article was last updated Jul 18, 2017, but some terms and conditions may have changed or are no longer available. For the most accurate and up to date information please consult the terms and conditions found on the issuer website.
When you leave your home, you can lock the front door to protect your belongings. When it comes to personal financial information including your Social Security number, it's not as simple. Identify fraud surged 16% in 2016, according to Javelin Strategy and Research. Discover credit card holders just got a new layer of protection.
Today, Discover launched a free credit monitoring service for its credit card account holders, which acts like a home alarm. It will alert and warn you that a burglar has entered the house.
How It Works
The free Discover service monitors risky websites known to illegally sell or trade personal data and alerts Discover card members if their Social Security numbers are found. In addition, Discover will alert card members if any new credit cards, mortgages, car loans or other accounts are opened on their Experian® credit report.
If alerted, card members can call to speak to one of Discover's 100% U.S.-based customer service agents. If it appears that their identity is at risk, Discover agents can walk them through the necessary steps to help resolve the issue as quickly as possible.
Identity Theft Continues To Increase
If you have the feeling that it's not a question of if, but when your personal financial information could be at risk, you may be right. Identify thieves continue to look for new ways to exploit stolen information. In 2016, identity fraud hit a new record high impacting 15.4 million U.S. victims, according to the 2017 Identify Fraud study by Javelin Strategy and Research. Over the past year, identity fraud has impacted major companies including customers of Chipotle, Yahoo, Blue Cross Blue Shield and Gmail.
Identity fraud thieves are using stolen payment cards to make fraudulent purchases, taking control of existing accounts and opening new accounts. The Javelin report identifies four significant identity fraud trends including:
1. Fraud continues to increase – new record high in 2016.
2. Card-not-present (CNP) jumped significantly. (Criminals are moving online as EMV chip technology makes fraud more difficult at the checkout counter).
3. Account takeover losses hit $2.3 billion a 61% increase from 2015.
4. New account fraud continues unabated.
New account fraud. It often takes time for unsuspecting victims to notice new account fraud, either by viewing their credit report by an unwelcome call from a debt collector. The new Discover service will help cardholders protect against this type of fraud, acting as an early detection alert system.
The Javelin report found that new-account fraud victims were most likely to discover fraud through review of their credit report (15 percent) or when they were contacted by a debt collector (13 percent).
"Knowing is the first step toward preventing or resolving identity theft or fraud. That's why our new alerts are intended to make sure our cardmembers are in the know when their identities might be at risk," said Julie Loeger, Discover's executive vice president and chief marketing officer.
Discover Cards Come With Many Security Features
Discover is the only major credit card that lets card members activate both Social Security number alerts and new account alerts for free, as of June 2017. The new service adds to already robust security features that come with all Discover credit cards. These include:
1. Discover's Freeze it® feature allows you to quickly prevent new purchases, cash advances or balance transfers from being authorized on your account. Freeze and unfreeze your account in seconds on the mobile app or website.
2. $0 Fraud Liability Guarantee. Account holders are never responsible for an unauthorized purchase made on your Discover card.
3. If your Discover card is lost or stolen, get free overnight shipping for card replacement.
4. Get your FICO® Credit Score for free on monthly statements, on mobile, and online—to help you stay on top of your credit.
Discover's Top Credit Card Offers
If you are shopping for a new credit card, Discover offers one of the best travel credit card on the market: Discover it® Miles. It offers a blockbuster sign-up bonus and doubles all the points you've earned at the end of your first year. See how it stacks up against another leading travel card in this comparison chart.
Here is a snapshot of Discover's top offers:
Top Travel Card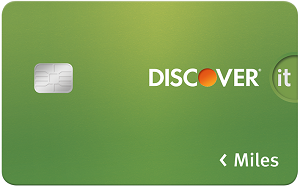 Discover it® Miles is a best in class, no annual fee travel card. What makes this travel card stand out is a sign-up bonus you won't find anyplace else. Discover will automatically match all the Miles you've earned at the end of your first year For example, if you earn 30,000 miles, you get 60,000 miles. This card offers you unlimited 1.5x miles per dollar on all purchases, every day. If you direct all your everyday spending to this card, at the end of the year you could score a massive bonus. Do you have big vacation plans coming up? You will get a long introductory APR of 0% for 14 Months on purchases with this card in your wallet. That means you have lots of time to pay off the trip with no interest payments. Earn a high rate of miles on all your everyday spending with this no-annual fee travel card winner.
Top Cash-Back Rewards Card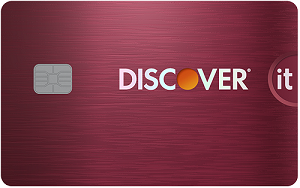 Discover it® Cash Back This card can turn into a cash-back machine for your wallet. At the end of your first year, Discover will match the cash back you've earned. Direct all your spending to this card for purchases and you could collect a hefty cash-back bonus after 12 months. Discover delivers huge rewards with 5% cash back at different places each quarter like gas stations, grocery stores, restaurants, Amazon.com, or wholesale clubs up to the quarterly maximum each time you activate. 1% unlimited cash back automatically on all other purchases. Get 0% for 14 months introductory APR on purchases. After that, the APR is 13.74% - 24.74% Variable. This card comes with no annual fee.
Top Balance Transfer Card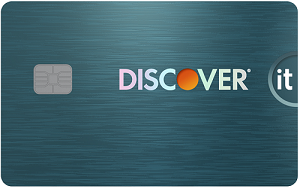 Discover it® Balance Transfer makes this card special is the unique combination of cash-back, long 0% APR and one of the lowest go-to purchase rates available. This card offers valuable cash back rewards that you can turn around and use to pay down your debt faster. Start with a generous intro APR of 0% for 18 Months on balance transfers, with no annual fee. Earn a blockbuster sign-up bonus with this cash-back card that gives you a dollar-for-dollar match on all the cash you've earned at the end of your first year. This card also delivers high on-going cash back rewards. Earn 5% cash back at different places each quarter like gas stations, grocery stores, restaurants, Amazon.com, or wholesale clubs up to the quarterly maximum each time you activate. 1% unlimited cash back automatically on all other purchases.. Once the introductory interest period ends, this card offers one of the lowest regular purchase rates available for a balance transfer card. That's important if you don't pay off your debt in the intro period. There is a 3% balance transfer fee, but the big cash-back rewards could easily cover that and leave money in your pocket to help pay down your balance.
Protect Your Identity
Using a credit card that offers security alerts like Discover offers is a smart first step to help protect your identity and keep your personal financial information safe. Here are four more tips to keep your identity safe.
1. Check your credit report regularly. You are entitled to a free copy of your credit report every 12 months from each credit reporting company. If you find errors or accounts that you don't recognize contact the credit bureau immediately.
2. Consider an initial fraud alert. If you are in the market for a new credit card, apply first. But, if you are concerned about the potential for identity theft, consider starting a fraud alert, after you've applied for your new credit card. You can start a free initial fraud alert at any of the three major credit reporting bureaus. These typically last 90 days and if you or someone else tries to open a new account under you name, the lenders will double check with you before approving or denying the application.
3. A more dramatic option is a security freeze. If your identity has already been compromised, you can request a credit freeze at the major credit reporting bureaus. This essentially puts your credit file on ice and will prevent lenders from accessing your credit history in response to a new credit application. You will need to plan ahead when you are applying for new credit like a mortgage, auto loan or credit card and "unfreeze" your credit file first. Unlike an initial fraud alert, the security freeze stays in place until you remove it. Depending on your state, there may be a fee for this service.
4. Use credit cards. Using a credit card offers better protections than cash, debit cards or checks. If a hacker has stolen your credit card number, you are protected by the Fair Credit Billing Act. Federal law limits your responsibility for unauthorized charges to $50. Some credit card companies – including Discover – offer $0 Fraud Liability guarantee with their cards.
The rising prevalence of e-commerce creates more opportunities for identity thieves to jump out of the shadows. Your personal information could even be stolen during a legitimate business transaction. Discover's hefty line-up of security features are another tool in your arsenal to protect your identity. Sleep better at night with a Discover card in your wallet.