*Editorial Note: This content is not provided or commissioned by the credit card issuer. Any opinions, analyses, reviews or recommendations expressed in this article are those of the author's alone, and may not have been reviewed, approved or otherwise endorsed by the credit card issuer. This site may be compensated through a credit card issuer partnership.

This article was last updated Feb 01, 2018, but some terms and conditions may have changed or are no longer available. For the most accurate and up to date information please consult the terms and conditions found on the issuer website.
This post contains references to products from one or more of our advertisers. We may receive compensation when you click on product links. For more information, please see our Advertiser Disclosure
A key piece of being a financially responsible adult is building your credit, and the perfect way for a college student to start on the right foot is with a student credit card. There are a number of student credit cards on the market, each with different perks and rewards. Here's a breakdown of the best student credit cards for 2018:
Best Credit Cards for Students
Discover it® for Students: This credit card offers one of the most generous rewards programs on the market for consumers who may have a limited credit history or even no credit at all. Just like the standard Discover it® card, the Discover it® for Students offers 5% cash back at different places each quarter like gas stations, grocery stores, restaurants, Amazon.com, or wholesale clubs up to the quarterly maximum each time you activate. 1% cash back on all other purchases.. And to make the rewards even sweeter, Discover will automatically match all the cash back you earn at the end of your first year.
The Discover it® for Students also has numerous features that make it the perfect choice for a first time cardholder. For example, as you get accustomed to your new credit card, you won't have to worry about an over the limit fee and there is no late fee on your first late payment. You will also receive a free FICO credit score each month to help you track your progress as you build credit. Finally, Discover will reward you for your studies by giving $20 cash back each school year your GPA is 3.0 or higher for up to the next 5 years. That means you could put up to $100 in your pocket if you study hard and make good grades!
Journey® Student Rewards from Capital One®: For students who want a more consistent cash back program with no rotating categories, the Journey® Student Rewards from Capital One® is a great choice. This card offers a constant 1% cash back on all purchases; 0.25% cash back bonus on the cash back you earn each month you pay on time. This brings your cash back rate up to 1.25% which is very good for a first time credit card.
Another great feature is that you can choose the monthly due date that works best for you. This will help you stay organized with paying your bills and make sure you start out on the right foot. Finally, you'll get free access to the Capital One Credit Tracker service which allows you to receive an updated credit score every month so you can watch your score rise as you use your card responsibly.
Discover it® chrome for Students: This Discover card comes with all of the same fantastic features of the Discover it® for Students including a free FICO score, no late fee on your first late payment, and a good grades bonus. And just like the Discover it® for Students, this card offers a solid introductory APR of 0% for 6 Months on purchases and balance transfers. However, the cash back program on the Discover it® chrome for Students is slightly different.
Instead of offering bonus cash back in rotating categories, this Discover cashback card gives 2% cash back at restaurants and gas stations on up to $1,000 in combined purchases every quarter--no sign-ups needed. 1% cash back on all your other purchases. Depending on how you spend your money, that difference could make it a slightly less lucrative rewards card than the Discover it for Students.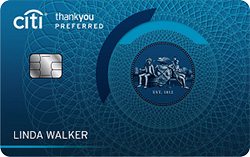 Citi ThankYou® Preferred Card for College Students: If you're a college student looking for something other than a cash back rewards card, then the Citi ThankYou® Preferred Card for College Students would be the way to go. This card earns Citi ThankYou® points, which can be redeemed in a number of ways through their ThankYou.com portal. One thing that makes this card stand out is that if offers an intro APR of 0% for 7 months*, which is currently the longest introductory period for a student credit card.
In terms of rewards, the Citi ThankYou® Preferred Card for College Students earns 2 ThankYou® Points per dollar spent on purchases for dining and entertainment, 1 ThankYou® Point on other purchases. One downside of this card is that you need good credit to apply, so many students who are looking for their first credit card might have trouble getting approved.
The Bottom Line
Since an important factor that impacts your credit score is the age of your credit history, it's never too early to start building credit. In fact, when many college graduates arrive in the real world, they find themselves wishing they had gotten a credit card years ago. If you're not a student but still looking for your first credit card, check out our guide to credit cards for beginners.
While rewards programs and credit card perks are certainly nice benefits to have with your card, the most important thing for a student opening their first credit card is that you begin to form good habits by paying your bills on time and not charging up a balance that you can't afford. All of the cards mentioned above will report to the credit bureaus and help you build a solid credit history if you use them responsibly. And to top it off, you also get to earn some rewards along the way.